Team Coast
Team Coast was previously a North American team. They were formerly known as Good Game University.
History
[
edit
]
Creation of Good Game University
[
edit
]
On January 4, 2013, Good Game University was founded by the former roster of Team Dynamic following their departure from the parent multi-gaming organization. ZionSpartan, NintendudeX, DontMashMe, Shiphtur, I am Anjo, and Pixel joined the team.
Season 3
[
edit
]
In January 2013, Good Game University competed in the North American LCS Qualifier. In the group stage, Good Game University beat Epik Gamer and Team TowerDiveTV, while dropping one game to Team FeaR. By winning those two games, GGU advanced to day two of the event where they would defeat Dirtnap Gaming and secure their spot in the Spring Split of the NA LCS.
Good Game University's mid lane player, Shiphtur, was unable to play in the LCS due to Visa issues. With substitute player Jintae, GGU opened the season poorly, going 2-12 with a seven game losing streak. However, with the acquisition of Daydreamin, GGU turned their season around and finished sixth at 11-17 in the Spring Split, securing their spot in the NA LCS Spring Playoffs. In the quarterfinals of the playoffs, GGU defeated Dignitas 2-1, advancing them to the semifinals, where they beat Team Curse 2-1. With those two victories under their belt, GGU advanced to the finals, where they faced off against Team Solomid. Although Team Solomid won 3-2, Good Game University secured their spot in the NA LCS Summer Season.
After finishing the spring split at second place in the playoffs, the team renamed to Team Coast, their new sponsor. Additionally, ex-Curse Gaming support player Elementz became their coach. Shiphtur's visa issues were resolved, and he was able to play mid for Team Coast in the summer LCS season.
The NA LCS Summer Season was rough for Team Coast. They began the season tied for second during Week One, but thanks to a seven-game losing streak at the end of the split, Coast had to settle for seventh with a record of 9-19. This meant they would be sent to relegation matches in December to win back their spot into the league for the Season 4 Spring Promotion.
2014 Preseason
[
edit
]
In the offseason, Team Coast was invited to some amateur scene events, winning ggLA Challenger Arena 5 and then earning a spot onto the new competitive league, the North American Challenger League (NACL). During the first week of the NACL, on October 8, 2013, DontMashMe announced that he had stepped down from his starter AD position.[1] On November 26, WizFujiiN joined as the new starting AD.
In December, Coast chose to play against challenger team The Walking Zed for a spot in the Season 4 Spring Split North American LCS at the Spring Promotion tournament. There, Coast would won 3-2 and qualified for their third LCS split, the Season 4 Spring Split.
2014 Season
[
edit
]
Coast placed sixth at the end of the spring split, qualifying them for the playoffs. However, two losses - first to CLG 0-2 and then to Dignitas 1-2 - sent them to relegation, where they lost 1-3 to compLexity.Black. After their defeat, ZionSpartan and Shiphtur departed the team to join Dignitas. Additionally, NintendudeX stepped down from his starting role and was replaced by Santorin. The next month, Rhux and goldenglue joined to fill the mid lane and top lane vacancies.
Coast's participation in the Promotion Tournament automatically gave them a seed into the NACS Summer Series #1. With a roster consisting of Rhux, Santorin, goldenglue, WizFujiiN, and Sheep (DontMashMe and Daydreamin substituted for Santorin and Sheep in the quarterfinals), they defeated Team Green Forest, Curse Academy, and then LoLPro to win the tournament.
The second series saw a similar performance from Coast; this time, they defeated Denial, Team 8, and Curse Academy to claim the first-place spot. With the top seed into the summer playoffs, Coast was given a bye to the semifinals; they lost to Team 8 but then defeated LoLPro and qualified for the Spring Promotion Tournament.
Immediately before the promotion tournament, Coast swapped out Rhux and goldenglue to substitute positions in order to bring on Miracle and Ringer, two Korean players, as their solo lanes.[2] The move was meet with significant backlash from the community. Coast lost to Evil Geniuses.NA 0-3 but were given an automatic qualification into the Spring Expansion tournament.
2015 Preseason
[
edit
]
Miracle and Ringer both left the team after their Promotion Tournament loss, and on September 27 Cris and LOD joined the team; however, LOD left a month later along with Santorin; Santorin became the jungler for Team SoloMid. Impaler and Jesiz came to North America from Europe to to join the team, filling those slots.
Coast gave up their Expansion Tournament qualification due to losing three members of the team that had played in the Promotion Tournament. However, they qualified via the Challenger ladder with the top seed, ahead of Enemy eSports. Coast easily went through the online stage of the tournament, defeating Call Gaming and LoLPro both 2-0. Matched against Curse Academy in the live tournament, they lost in the first round 3-1 but then beat Final 5 3-1 and Team Fusion 3-2 and qualified for the Spring 2015 LCS. Their starting roster going into the 2015 season included Cris, Impaler, Jesiz, Mash, and Sheep.
2015 Season
[
edit
]
After the fourth week of the Spring LCS Split, Team Coast was at a 1-7 record. They replaced Jesiz with Mancloud going into the fifth week.[3] However, the team was unable to win a single game with Mancloud, and after the 7th week of the split they acquired Final Five and made a few roster changes, with the goal to strengthen the Challenger team, currently in second place behind Enemy eSports in the NACS. Impaler and Sheep both left the LCS roster to move to Final Five, replacing heavenTime and KonKwon, respectively. KonKwon moved to the LCS roster replacing Sheep, and WTHeaven, who played for Team Confusion in the Expansion Tournament, would replace Impaler.[4] Coast continued to lose all of their games after this roster swap and eventually ended the split with a 1-17 record, automatically relegated to the NACS. Prior to the start of that season, Final Five and Coast separated from each other, enabling both of them to keep their seeds into the tournament.[5]
Coast changed their roster going into the NACS Summer Split, bringing in Korean jungler Shrimp and North American mid laner Pekin Woof. They won the round robin, beating Renegades in a tiebreaker match, and then placed second in the playoffs, qualifying them to the Promotion Tournament. With Team Imagine chosen by Team 8, Coast played Enemy and won 3-0, returning to the LCS for the 2016 LCS Spring Season. During their Challenger Series run, jungler Shrimp in particular received recognition for his ability to carry the team.
2016 Preseason
[
edit
]
After qualifying for the 2016 LCS Spring Season, Team Coast sold its LCS slot to NRG eSports in November.[6]
Timeline
[
edit
]
Player Roster
[
edit
]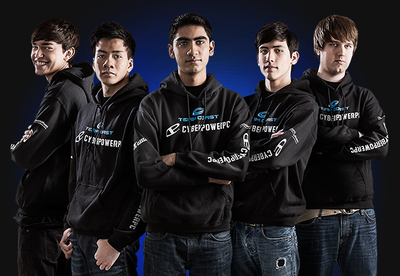 Player League Participation
[
edit
]
Playoff games are NOT included, but regular-season tiebreaker games ARE.
LCS
Organization
[
edit
]
Current
[
edit
]
| | ID | Name | Position |
| --- | --- | --- | --- |
| | | David Slan | Managing Partner |
Tournaments
[
edit
]
This table shows up to the 10 most recent results. For complete results, click here.
Team Coast Tournament Results - Show Prize as (

Local

•

USD

•

Euros

)
Date
Pl
Prize
Event
Last Result
Roster
2015-09-06
Q
NA LCS 2016 Spring Promotion

3 : 0

⁠⁠NME

 Cris,  Shrimp,  Pekin Woof,  Mash,  KonKwon,  Saintvicious
2015-08-12
2

$7,000

$ 7,000

€ 6,244

NACS 2015 Summer Playoffs

2 : 3

⁠⁠REN

 Cris,  Shrimp,  Pekin Woof,  Mash,  KonKwon,  Saintvicious
2015-07-22
1
NACS 2015 Summer

8 - 2

⁠⁠

RR

 cris,  Shrimp,  Pekin Woof,  Mash,  KonKwon
2015-05-17
1
Grand Opening LoL Showdown

3 : 0

GOGI

 Cris,  Gate,  DontMashMe,  KonKwon
2015-05-10
1

$5,000

$ 5,000

€ 4,462.89

Press Start LAN 2015 - 5v5

3 : 0

FFG

 Cris,  Metroid,  Gate,  DontMashMe,  KonKwon
2015-03-29
10
NA LCS 2015 Spring

1 - 17

⁠⁠

RR

 Cris,  Impaler,  WTHeaven,  Jesiz,  mancloud,  Mash,  Sheep,  KonKwon,  Michael Slan,  Arashi
2014-12-14
Q
NA LCS 2015 Spring Expansion

3 : 2

⁠⁠FSN

 Cris,  Impaler,  Jesiz,  Mash,  Sheep
2014-09-29
1

$6,700

$ 6,700

$6,700

NESL Pro Series Season 10

2 : 1

⁠⁠T8

 Rhux,  Cris,  Santorin,  Creative Play,  goldenglue,  Danksw4nk420,  Mash,  Sheep
2014-09-11
NQ
NA LCS 2015 Spring Promotion

0 : 3

⁠⁠EG

 Miracle,  Santorin,  Ringer,  Mash,  Sheep
2014-08-24
3

$8,000

$ 8,000

€ 6,040

NACS 2014 Summer Playoffs

3 : 1

⁠⁠PRO

 Rhux,  Santorin,  Goldenglue,  Mash,  Sheep
Total Prize:USD 26,700
As Good Game University
[
edit
]
This table shows up to the 10 most recent results. For complete results, click here.
Good Game University Tournament Results - Show Prize as (

Local

•

USD

•

Euros

)
Date
Pl
Prize
Event
Last Result
Roster
2013-04-28
2

$25,000

$ 25,000

€ 19,175

NA LCS 2013 Spring Playoffs

2 : 3

⁠⁠TSM

 ZionSpartan,  NintendudeX,  Jintae,  DontMashMe,  Daydreamin
2013-04-19
6
NA LCS 2013 Spring

11 - 17

⁠⁠

RR

 ZionSpartan,  Fat,  NintendudeX,  Shiphtur,  Jintae,  DontMashMe,  I am Anjo,  BloodWater,  Daydreamin
2013-02-01
5 - 8
NESL Pro Series Season 5

3 - 4

⁠⁠

RR

 ZionSpartan,  NintendudeX,  Shiphtur,  DontMashMe,  Daydreamin,  CuRtoKy,  I am Anjo
2013-01-13
Q
NA LCS 2013 Spring Qualifiers

2 : 1

⁠⁠DNG

 ZionSpartan,  NintendudeX,  Shiphtur,  DontMashMe,  I am Anjo
2013-01-08
1

$1,000

$ 1,000

€ 765.17

MLG Prizefights - #15

2 : 1

⁠⁠TBC

2013-01-06
5 - 6
SoloMid NA Invitational 12

1 : 2

⁠⁠MP

 ZionSpartan,  NintendudeX,  Shiphtur,  DontMashMe,  i am Anjo
2012-12-23
Q
Season 3 NA IPL Online Qualifiers

W : FF

EX-Q

Total Prize:USD 26,000
Highlight Videos
[
edit
]
Interviews
[
edit
]
Articles
[
edit
]
See Also
[
edit
]
External Links
[
edit
]
References
[
edit
]